Solar Vehicle Team Project Takes Unusual Route
When NC State competes in a solar-vehicle race this summer, its entry will stand out in one unusual way: It will look like a car.
SolarPack, the team building the vehicle, is focusing on practicality as well as performance and energy efficiency. That's why it designed a conventional car, with room for passengers and space for groceries, rather than the small single-person vehicles typically seen at the American Solar Challenge.
"I told the team, 'Let's make something compelling that the consumer actually wants to buy,'" says senior Bryon Spells, SolarPack's leader.
Spells and dozens of other students have spent the past few months designing, building and raising money for their vehicle. Their goal is to cross the finish line not as first-place winners but with a vehicle that will illuminate new possibilities for solar power and automobiles.
A Complicated Endeavor
Spells didn't know much about solar cars before he started this project.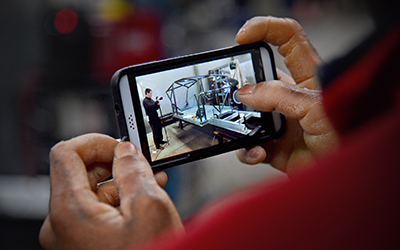 However, the mechanical engineering major has long been interested in automobiles and alternative power sources. In the summer of 2016 Spells interned at EVX Ventures, a company in Australia that focuses on solar vehicles and related spinoff technology. When he returned home to Raleigh, he decided to put his internship experience into practice at NC State. He recruited fellow engineering students to form SolarPack with the goal of competing in the American Solar Challenge. Entrants must first participate in the Formula Sun Grand Prix, a track-based qualifying race scheduled for July in Hastings, Nebraska. Contestants who make the cut will spend the next nine days traveling more than 1,700 miles from Nebraska to Oregon, with checkpoints along the way.
Spells' goal from the start was to create a car that is marketable. Building a solar-powered vehicle is complicated enough; making a consumer-friendly one is even harder.
The amount of sunlight that falls on a typical car isn't enough to power it, says engineer Ewan Pritchard, associate director for the Advanced Transportation Energy Center and the team's mentor. SolarPack needed a unique design: space to put solar panels, room for batteries and an aerodynamic shape permitting the vehicle to use as little energy as possible while in motion.
"We spent a lot of time scratching our heads and being confused because there was no pre-existing platform for us to build on, no foundation," Spells says. He realized SolarPack needed to bring in people with other talents.
"Historically, a mechanical engineer with maybe a little bit of electrical experience could be the only person designing the car," Spells says. "It's not that way anymore."
The team began recruiting. SolarPack now comprises more than 40 undergraduate and graduate students from the colleges of engineering, design and management. Students from the Poole College of Management may not be involved with building the car, but they are crucial to promoting and fundraising for it, Spells says.
"Engineers aren't always the best at raising money or speaking to people," he says. "Business students are more trained for that."
SolarPack has gained corporate sponsors, including Toshiba, Geo Renewables, Imagineering and Autodesk. Both NC State's sustainability fund and the dean of the College of Engineering donated money. The team has received discounts on materials and has raised about $65,000 in cash so far, and it welcomes further contributions to cover costs such as legal document fees and team lodging during the competition.
"Sponsoring us is an opportunity to fuel bright minds of the future," Spells says. "Supporting us is a way to interact with us, encourage us, make sure we get to where we want to go with this project and build the world's brightest minds."
Sleek, Sporty, Solar
What will the car look like? It's designed to be practical, but it's a far cry from your grandparents' station wagon.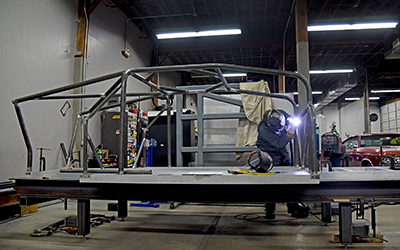 The car is almost 16 feet long and 5 feet tall, roughly the same size as a Toyota Camry. Inside will be five podlike seats. Solar panels on the roof will extend from the windshield all the way to the back of the car. It will use a camera system instead of a rear windshield. There is no radio and no heat or air conditioning.
"We have a lot of things to consider in the first design to get the car up and running, and we don't want to sacrifice our time with things like that," Spells says. "In future vehicles, perhaps."
The vehicle will use almost 500 lithium titanate oxide cells split into two battery modules situated at the front and rear of the vehicle. The cells have the right balance between energy efficiency and power, Pritchard says. They also are unlikely to catch fire.
A simulation gives the car a top speed of 98 miles per hour and the ability to go from zero to 60 in about six seconds. "That's on par with newer, sporty cars," says junior Cody Biedermann, a mechanical engineering major from Asheville who joined the team in May.
Spells estimates the car can go 250 miles on a full battery, taking into account accelerating and braking. That's a round trip from campus to Winston-Salem; however, Spells pointed out that people rarely drive that much in a day. In real life there would be plenty of time for the car to absorb sunlight between daily commutes and running errands, he says, whether in the parking lot at work or the driveway at home.
"A car actually sits about 95 percent of the time of its existence, with about half of that time during the day," he says. "That's time that your car could be charging," even on cloudy days with less sunlight.
The team agrees the design will hamper the vehicle's ability to win races. At about 2,000 pounds, it will be less energy efficient than other solar-powered vehicles that typically weigh half as much. However, a loss at the American Solar Challenge could mean victory in other ways.
"Our goal is not to win the competition," Pritchard says. "Our goal is to learn as much as we can through entering these competitions while figuring out how to incorporate solar into a more conventional vehicle to make it more practical. We know it's a long way away from us creating a fully solar-powered vehicle, but how much solar can we get? And what are the best ways to manage it?"
Next Steps
The car isn't assembled yet, but it has already distinguished itself. The motor is the most powerful the American Solar Challenge has ever seen. The batteries were completely new to competition officials.
"It speaks to the team's notion of not building a go-kart but building a real consumer-acceptable vehicle," Pritchard says. "I do have confidence that their design will fundamentally change the dynamics of the American Solar Challenge, and the rules will be different moving forward, probably as they see this vehicle and go, 'Wow, this is what we should really have been pushing these teams to make.'"
Spells says the team would like to test the vehicle around March. That leaves members enough time to fix faults, order any other necessary parts and train together as the vehicle's pit crew.
SolarPack's priorities now are filing competition paperwork, putting the vehicle together and raising more money. Just as students from multiple colleges are working together on the project, Spells hopes the colleges themselves will collaborate to help fund the team's work, especially since the car is a testing ground for technology and ideas that could be useful to automakers.
"An investment in SolarPack is an investment in the future," Spells says. "In many ways."
This post was originally published in NC State News.