Catalyst Makes STEM Accessible in NC 
Catalyst, a national award winning program of The Science House at NC State University, offers STEM opportunities for high school students with disabilities. Starting in high school, students gain experience for a future in STEM through educational opportunities, field trips, internships and more.
"Our hope with the program is that students learn they are needed in the STEM workforce," Joann Blumenfeld, program coordinator of Catalyst, said. "We want to provide them with STEM opportunities so they can be successful and take various educational and professional STEM pathways."
Recently, Catalyst students embarked on a field trip to the NASA Johnson Space Center where they went on behind the scenes tours with NASA professionals.
James Noble, a tenth grade student, values his Catalyst experiences, including many learning sessions, two internships, and participating in several trips including the 2023 NASA trip. While grateful for all the opportunities, Noble says the trip to NASA was extremely impactful — creating a new interest in the STEM field of piloting.
"I already have my commercial drone pilot license," Noble said. "But visiting the different spaceships and planes and looking at the different hardware was really interesting. Learning how to fly something like that really piqued my interest."
In addition, students across the state were immersed in all-things STEM at the Reach for a Star! Be a Star! STEM Resources Fair in April.
In partnership and alignment with Catalyst's mission, NC Space Grant supported both of these activities.
"Catalyst is a wonderful partner that provides opportunities for students from underrepresented communities to explore STEM careers and pathways," Jobi Cook, associate director of NC Space Grant, said. "Through their discoveries, the students are learning that everyone has a place at NASA!"
Blumenfeld appreciates the support. "NC Space Grant has helped us so much," Blumenfeld said. "The support helps us reach our goals and NASA's goal to create a diverse workforce. NASA understands these students have great abilities, skills and knowledge. They bring diverse ideas and innovative solutions."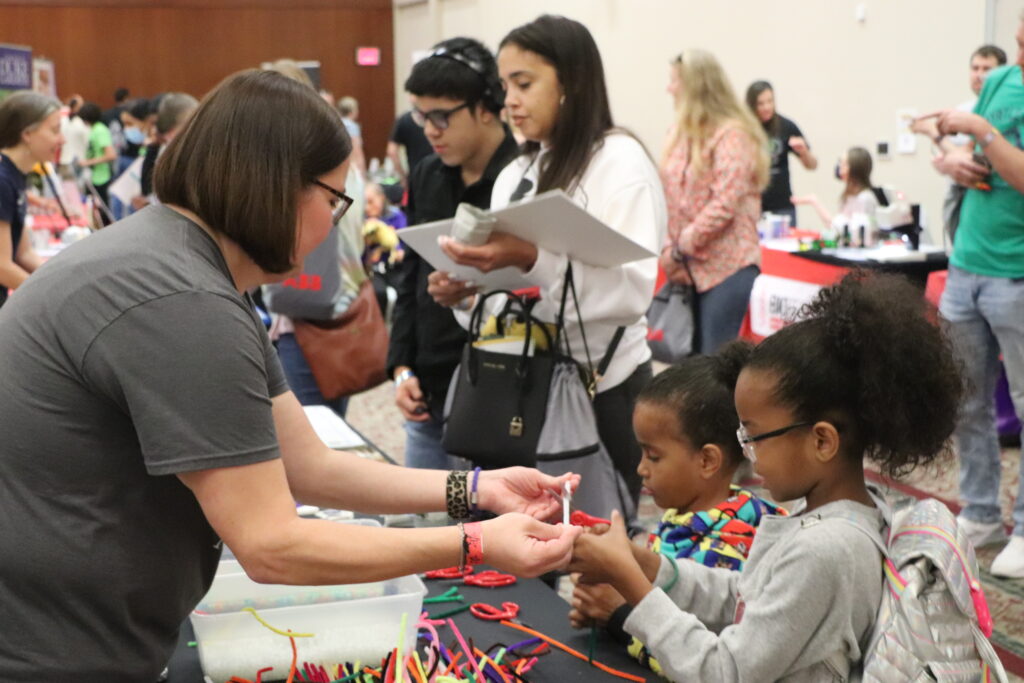 STEM For All
For the past six years, Blumenfeld has worked to make STEM accessible. As a former public school teacher, she had noticed special education students' needs weren't being met. For many, text-based learning is not as effective as hands-on activities, which often are lacking in classrooms.
In result, she started a journey to develop the Catalyst program offering hands-on learning for deepening STEM understanding and excitement.
Catalyst students learn about STEM through activities such as experiments and engineering design. Their instructors and mentors are faculty members, graduate students and professionals. The program offers field trips to see firsthand innovative research, labs and other facilities. Catalyst also prepares students for college or workforce entry through internship opportunities allowing students to explore different STEM pathways and gain transferable skills.
In addition to piloting, Noble is interested in two other STEM areas: chemistry and robotics. As part of Catalyst, Noble had the opportunity to participate in two internships.
"One internship was about brain computer interfaces," Noble said. "The other was welding and robotics. For robotics, I like to know how the technology works, how to code it and how to build it. My partner and I used Python code to get the robot arm to move in certain motions."
Catalyst is a rare gem right here in North Carolina. Following a unique model and with a 100 percent success rate, students and families across the nation have inquired about joining the program.
"All of the students go on to STEM careers and have been really successful," Blumenfeld said.
Showing this type of program can be successful and impactful, Blumenfeld is hopeful other states and organizations will enact similar programs so more students can be engaged.
For Adela Broughton, an eleventh grade student in the Catalyst program, the opportunities have exposed her to new areas of STEM she's interested in pursuing in the future. Broughton is interested in animals and conservation. She completed an internship focusing on plant biology at NC State University. Her experiments explored plant engineering and genetics. She starts a new internship at the Environmental Protection Agency soon.
"Catalyst has definitely reinforced my love of science," Broughton said. "It has opened me up to possibilities of other fields that I wasn't originally considering at first. I think it definitely gives me a lot more to research and consider going forward."
Above and Beyond: Going to NASA
The trip to the NASA facility in Houston, Texas included behind-the-scenes tours of the NASA Johnson Space Center; the Neutral Buoyancy Laboratory, an astronaut training facility; and Space Center Houston, science museum and visitor center of NASA Johnson.
"We got a once in a lifetime experience," Blumenfeld said. "We got to do everything behind the scenes that people don't get to do."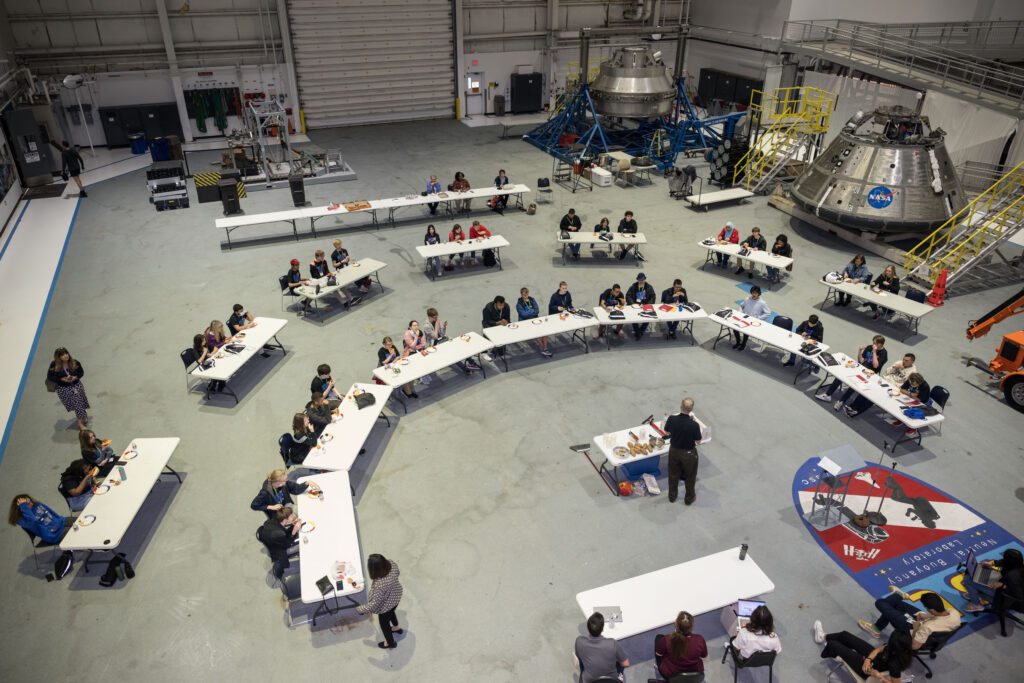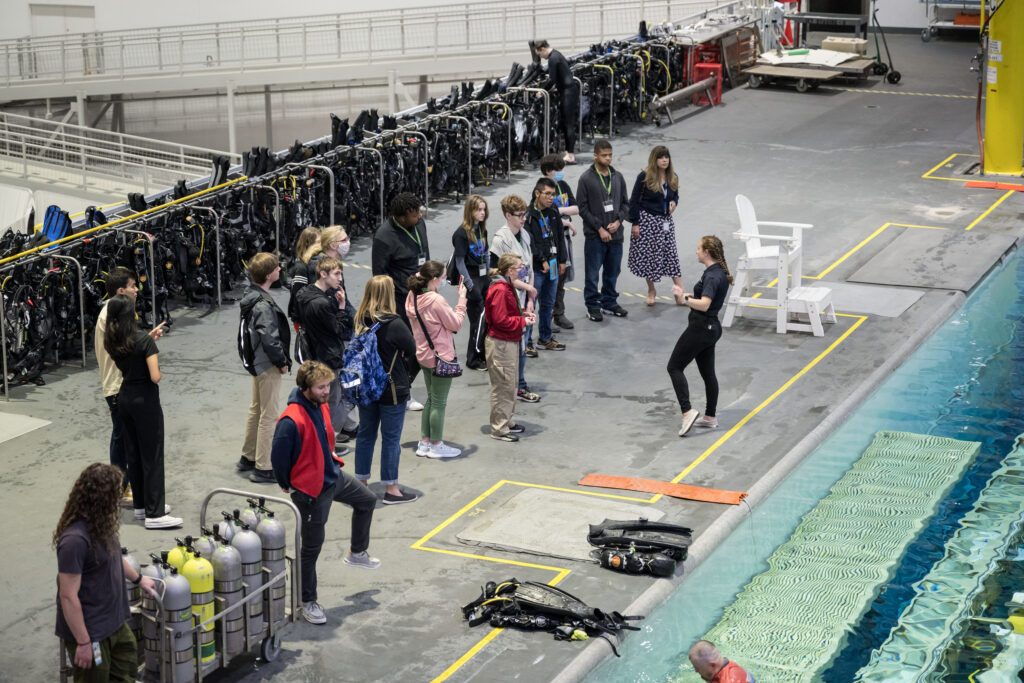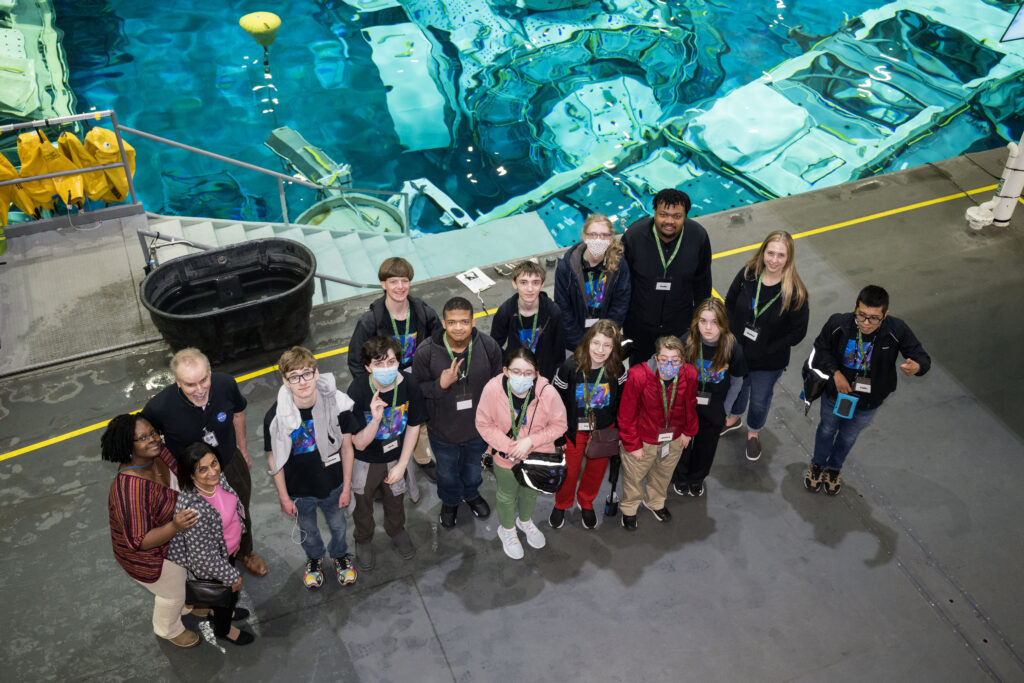 Students gather at the Neutral Buoyancy Laboratory for STEM learning and activities where NASA astronauts train and refine spacewalk procedures. Credit: NASA
The students had the opportunity to meet and connect with astronauts, mission control specialists, engineers, divers and other NASA professionals. They also participated in STEM activities like coding moon rovers, developing heat shields, and building and launching Estes Rockets.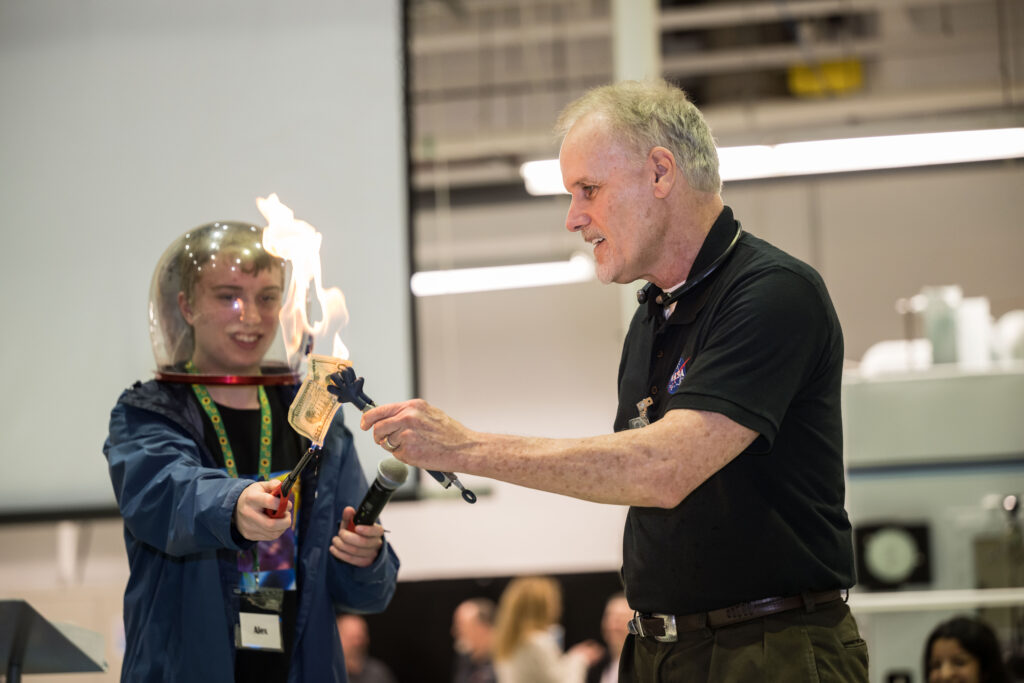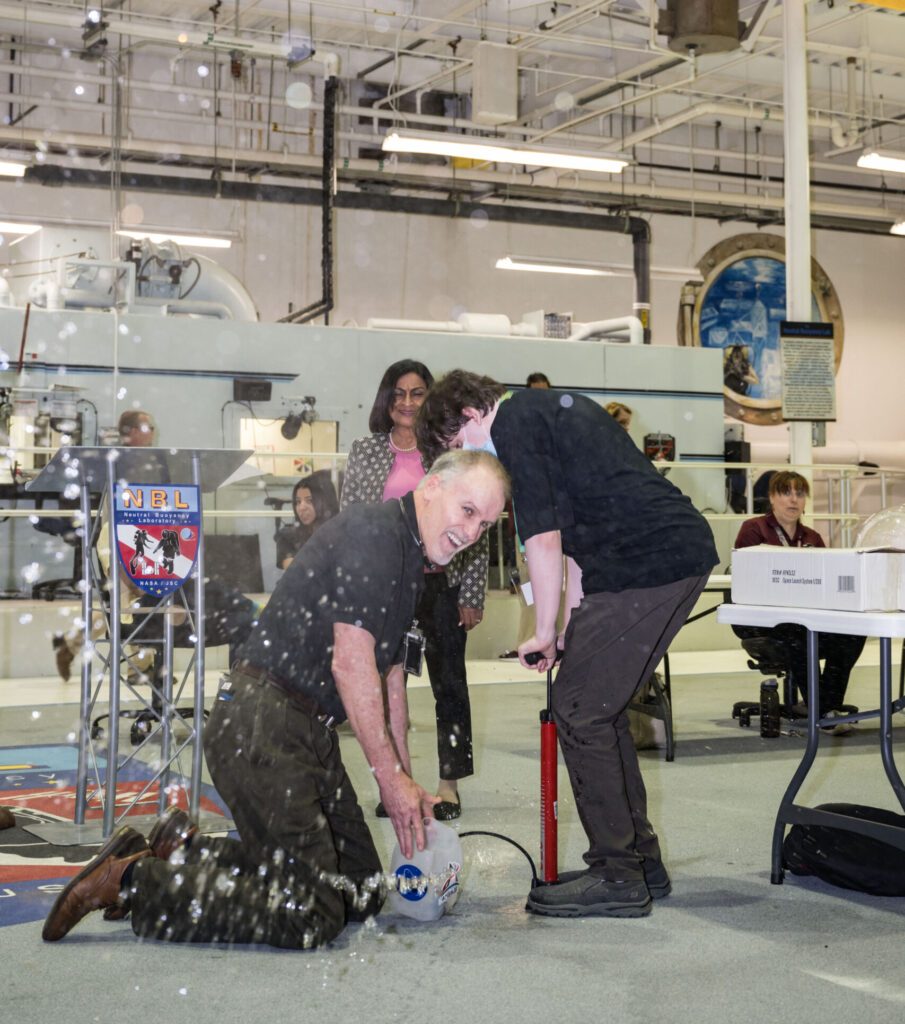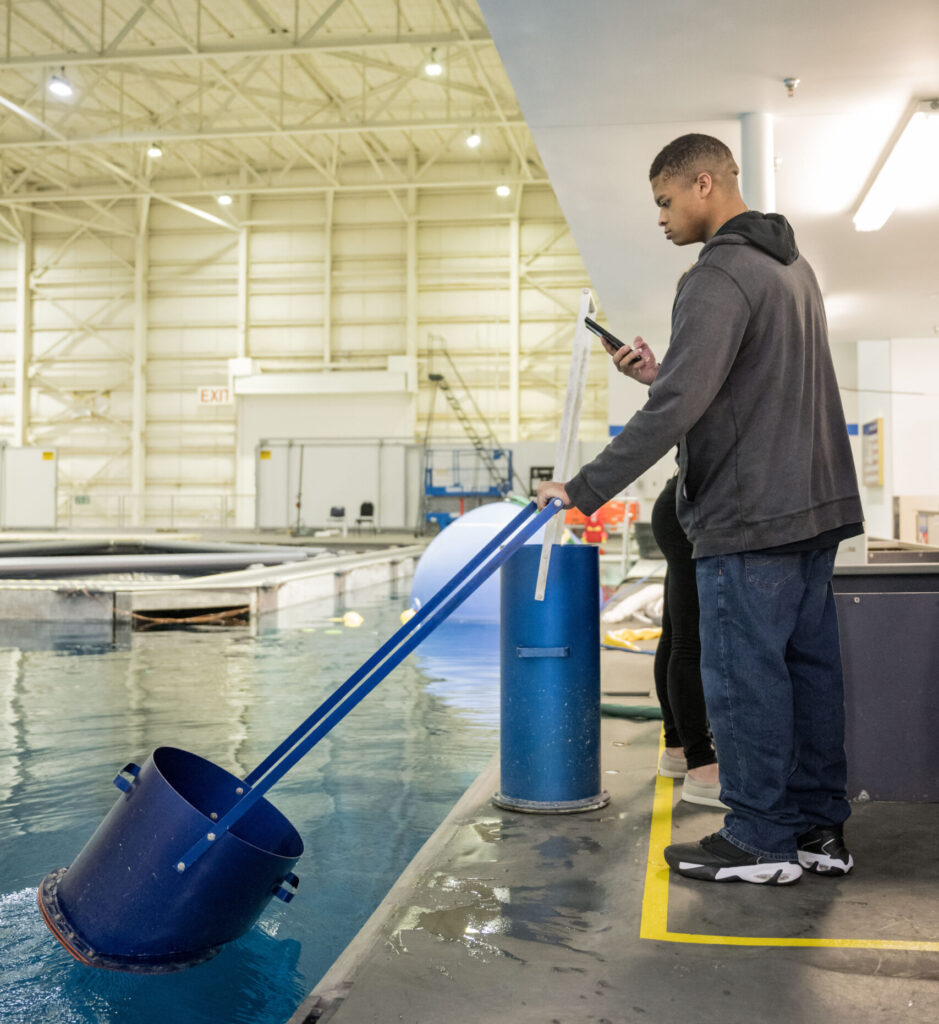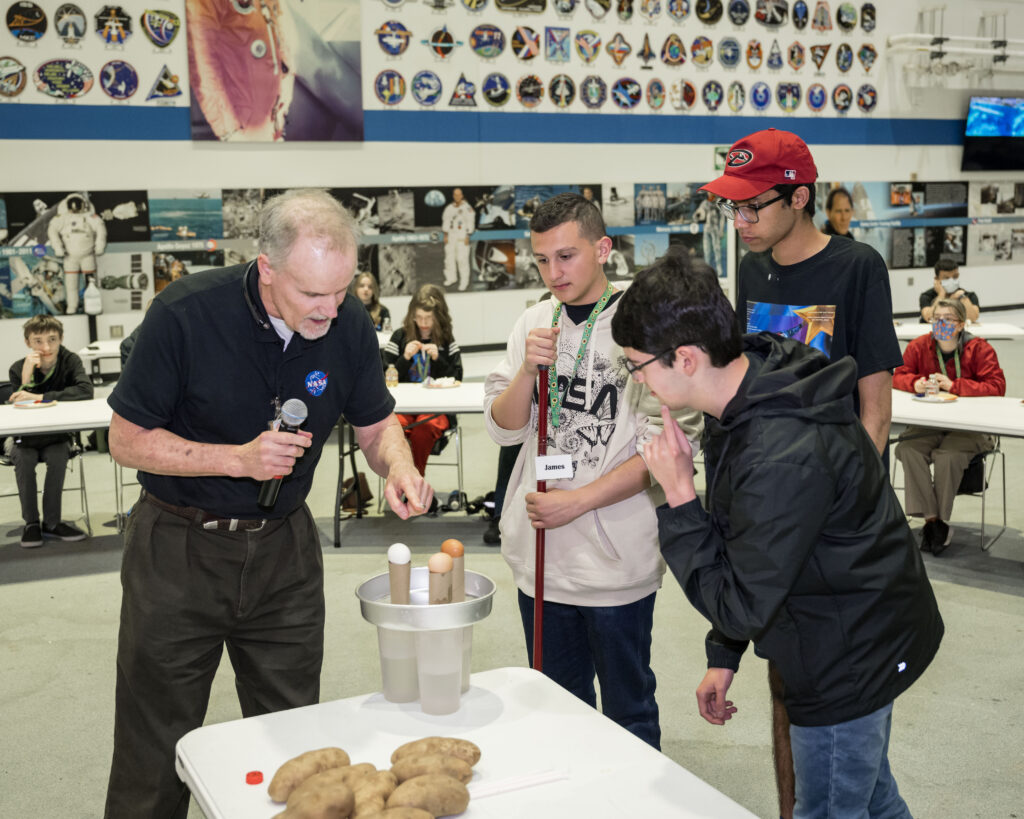 Catalyst students watch and participate in STEM demonstrations led by NASA professionals. Credit: NASA
To top it off, the students visited the current Mission Control Center, the Historic Mission Control Center, where NASA monitored Apollo 11, and the Saturn V Rocket, a retired rocket developed under the Apollo program.
"My favorite part of Catalyst so far has been the three-day trip to NASA," Broughton said. "I enjoyed touring the Space Center and talking to astronauts. They told us about what it's like being an astronaut and how they became one. My overall favorite part of the trip was seeing the Saturn V Rocket. It was interesting to think about 'this actually went to the Moon.'"
The Catalyst program plays a role in connecting students to professionals with disabilities. The three-day NASA trip was organized by Tracy Minish, mission control manager at NASA, who is visually impaired, Blumenfeld shared. Meeting with NASA professionals with disabilities inspired the students and reinforced the idea that they could be a part of NASA one day.
"Students met NASA engineers and scientists with disabilities and discussed that with perseverance and hard work, they can reach their goals in STEM fields," Blumenfeld said. "They encouraged students to dream big and make sure they define their goals, not others. NASA welcomes them because they know their skills, abilities, and innovation are needed to help NASA reach its goals."
Reach for a Star! Be a Star!
The Reach for a Star! Be a Star! STEM Resource Fair, held in April, was for middle and high school students who have disabilities to explore different STEM areas. Over 50 organizations and groups from across the state gathered at the McKimmon Center to share STEM activities and information. More than 700 people total, including over 400 kids, attended the fair.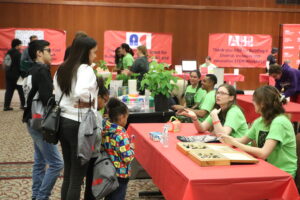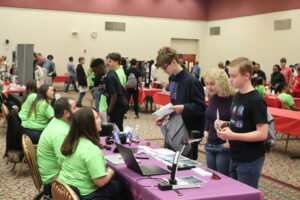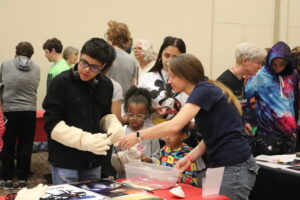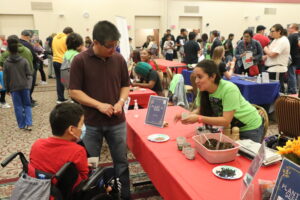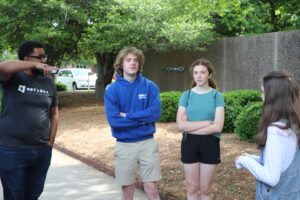 Students from all over North Carolina engage in hands-on STEM activities at the Reach a Star! Be a Star! STEM Fair. Credit: Catalyst
Government officials, including NC Governor Roy Cooper, US Representative Wiley Nickel and NC Representative Frank Sossamon, showed their support of a diverse and inclusive STEM workforce at the fair.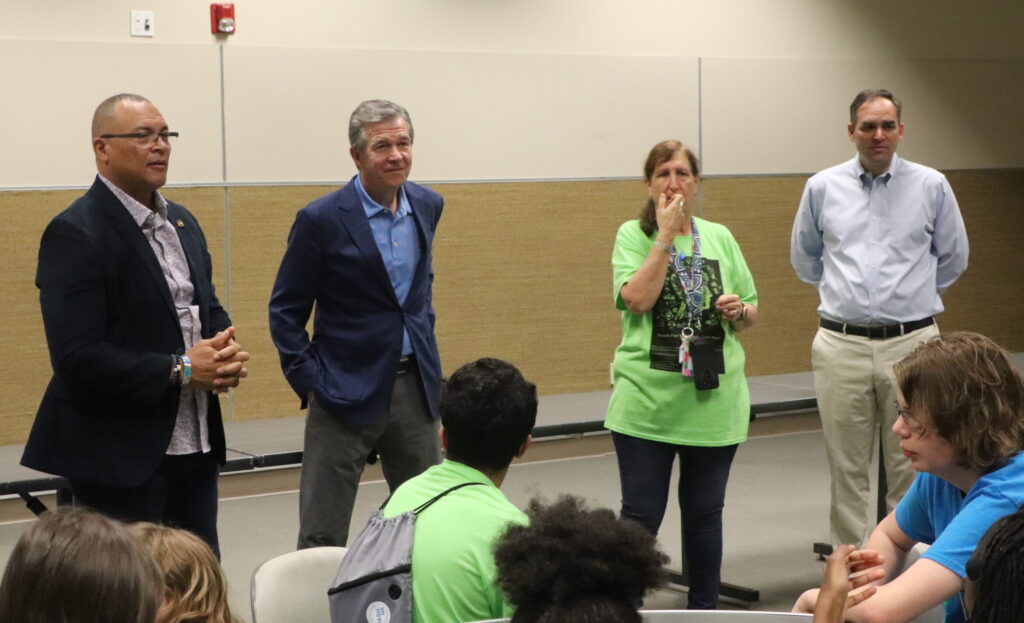 Cook of NC Space Grant, North Carolina Space Education Ambassadors (NCSEA) and Innovative Differentiated Exploration Activities in Space participants (IDEAS) shared hands-on NASA activities at the fair.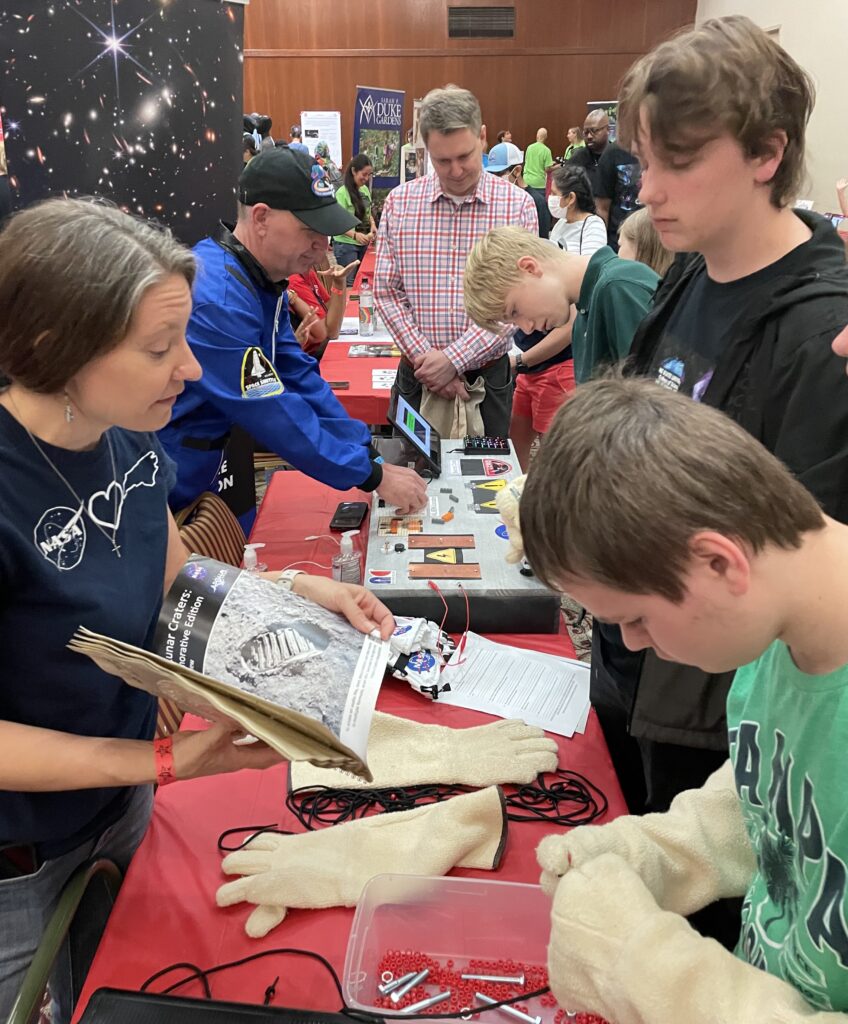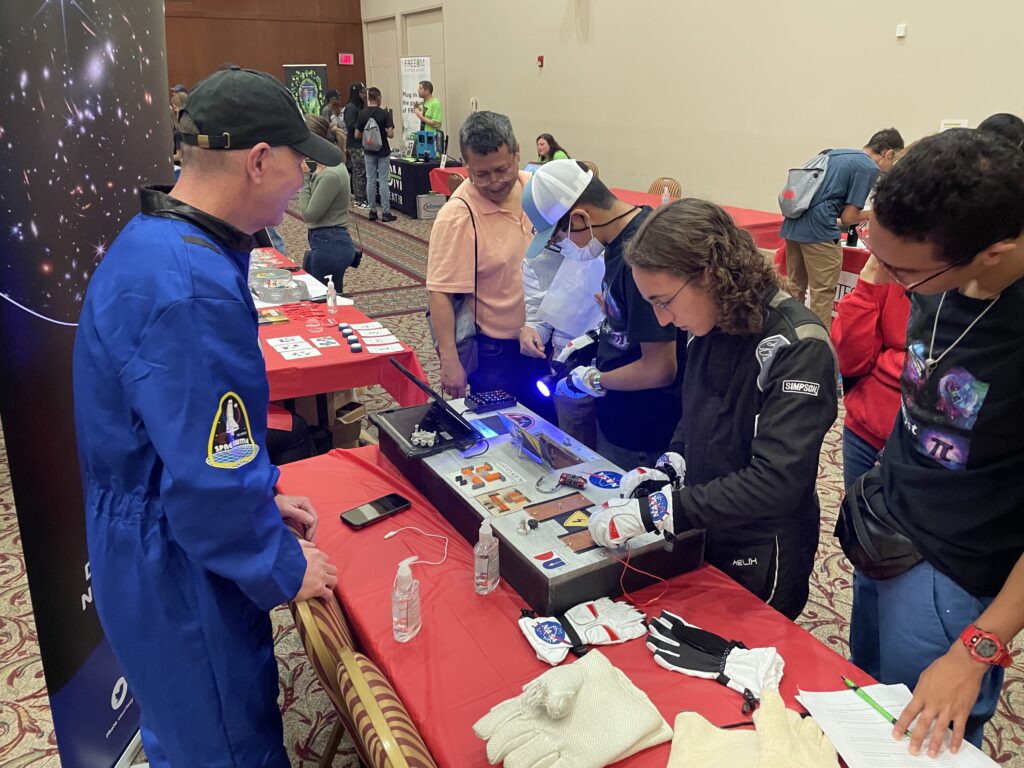 Jessica Kellerman (IDEAS) and Joseph Hayes (NCSEA, IDEAS), lead hands-on STEM activities.
"The event was a wonderful opportunity to host students with a keen interest in science/STEM-related futures," Jessica Kellerman, IDEAS participant, said. "We offered NASA resources and tasks that gave students a taste of NASA mission simulations. It was great to see families from across the state."
Professionals and Catalyst students also spoke to attendees about STEM pathways and self advocacy among other topics. Noble assisted in giving instruction to students about drone piloting. Broughton mentions it was impactful to hear from others, which she says reinforced the fact that people with disabilities can go into the workforce and self-advocate.
Moving Forward
In the future, Blumenfeld hopes Catalyst can expand and reach more of the over 200,000 students that have a disability in NC Public Schools. The program currently has a long waitlist.
"Everybody can do science," she says. "We want to make sure kids know that."
This post was originally published in North Carolina Space Grant.